BILLINGSLEY Maxine
Posted: January 24th, 2014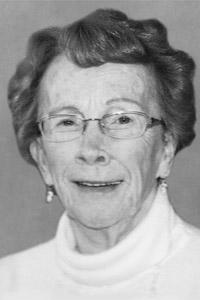 (nee Atkins)
June 15, 1924 – Cardston, AB
January 21, 2014 – Calgary, AB
Maxine Billingsley (nee Atkins) of Cardston, passed away peacefully on Tuesday, January 21, 2014 at the age of 89 years. Maxine loved living in Cardston with her big family of six girls, two boys and two cousins. She loved swimming, diving, singing, dancing, and playing basketball and bowling as a youth and adult. She married Bruce Billingsley in 1943 and they raised four children. They worked hard farming and "feeding the men" as she called it. They traveled to the States in the winters to work and later play in Surprise, AZ. She spent many summers in Montana at Lake Blaine with kids and grandkids. She loved and collected antiques and antique glass. As her Alzheimer's started her decline she remained very sweet and kind and very appreciative of anyone who cared for her and always thanked them. She was loved by all. Maxine is lovingly remembered by her children Bonnie (Cub) Wolff of Idaho and Cathy (David) Goodbrand of Calgary; grandchildren, Sean, Seth, Brock and Erin, Trisha, Tiffiny, Angela, Amy, Allison, Garrett and Derek and their spouses; and by twenty-eight great-grandchildren. She was predeceased by her loving husband Bruce; two sons Rick and Russ; and two grandsons McKay and Jesse Wolff. Funeral Services will be held at The Church of Jesus Christ of Latter-day Saints Sundance Chapel (100 Sun Park Drive S.E. Calgary, AB) on Saturday, January 25, 2014 at 10:30 a.m. Those wishing to pay their respects may do so prior to the service commencing at 9:30 a.m. Forward condolences through www.mcinnisandholloway.com. In living memory of Maxine Billingsley, a tree will be planted at Fish Creek Provincial Park by McINNIS & HOLLOWAY FUNERAL HOMES, Fish Creek Chapel, 14441 BANNISTER ROAD S.E. CALGARY, AB Telephone: 1-800-661-1599.