GORRILL Glenna
Posted: March 10th, 2014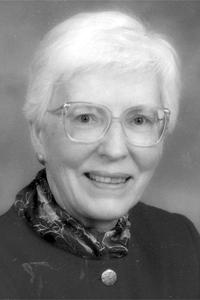 January 27, 1927 –Lethbridge, AB
February 26, 2014 – Calgary, AB
Glenna Gorrill passed away peacefully at her home on Wednesday, February 26, 2014 at the age of 87 years. She was born to Alice and Allison Gorrill of New Dayton Jan 27 1927. She is predeceased by both her parents; her sister, Dorothy (Soice); and her two brothers, Harry and Jerry. After graduating from New Dayton High School Glenna attended the Galt School of nursing where she received her R.N. in 1949 where she was valedictorian of her class. She obtained her certificate in teaching and supervision in 1955and her B.Sc. in nursing in 1962. Glenna completed her Masters of Nursing degree in 1968, and then accepted the position of nursing instructor at the Red Deer College where she was largely responsible for the development of that program. Glenna was a talented artist whose paintings can be seen at every one of her family's residences as her talent is superseded only by her tremendous generosity. Audry Thompson, a long time friend and companion, shared in many of Glenna's accomplishments and hobbies, and was a strong support for many years and for that we thank her and her family. Funeral Services will be held for Glenna at St. David's United Church (3303 Capitol Hill Crescent N.W.), on Tuesday, March 11, 2014 at 1:00 p.m. Condolences may be forwarded through www.mcinnisandholloway.com. In living memory of Glenna Gorrill, a tree will be planted at Big Hill Springs Park Cochrane by McINNIS & HOLLOWAY FUNERAL HOMES, Crowfoot Chapel, 82 CROWFOOT CIRCLE N.W. Telephone: 1-800-661-1599.