EVES Susan
Posted: May 30th, 2014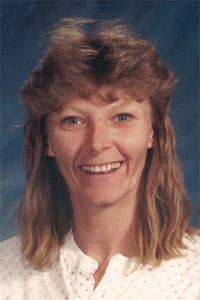 Susan Marie Eves of Lethbridge passed away suddenly Sunday May 25th from Cancer related complications at the age of 55. Susan will be greatly missed by her former husband and friend Blake along with their three loving children Sabrina, Krystal and Vanessa. Susan will also be deeply missed by her six grandchildren Akaysha, Jayden, Tristan, Ashton, Connor and Shantal. Susan will be forever remembered by family and friends for her sense of humor, fun, compassion and hospitality.
Don\'t think of her as gone away
her journey has just begun
life holds many facets
the Earth is only one
Just think of her as resting
from the sorrows and the tears
in a place of warmth and comfort
where there are no days and years
Think how she must be wishing
that we could know today
how nothing but our sadness
can really pass away
And think of her as living
In the hearts of those she touched
For nothing loved is ever lost-
And she was loved so much.
Please join us in celebrating Susan\'s life at CORNERSTONE FUNERAL HOME – 2800 Mayor Magrath Drive South, Lethbridge, Alberta on Friday, May 30th, 2014 at 10:00 A.M. with Pastor Aldeen McKay officiating. Cremation to follow the Celebration of Life.
In lieu of flowers, donations are kindly accepted to the Canadian Cancer Society 317 10 St S, Lethbridge, AB T1J 2M7.