MEDVE Mary
Posted: July 11th, 2014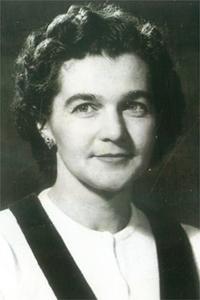 September 17, 1922 — Turulung, Romania
July 1, 2014 — Lethbridge, Alberta
MRS. MARY BERTHA MEDVE, of Lethbridge, Alberta, passed away July 1st, 2014 at the Chinook Regional Hospital at the age of 91 years. She is predeceased by her husband Bert Medve (1991) and her sister Helen Ramias (1963). Mary is survived by her sister Erma Peters of Lethbridge and her brother Bert Schwartzkopf of Coalhurst. Our mother will be greatly missed and always remembered by her sons; Albert (Pat), Douglas (Rita) daughters; Margaret (Mel) Jones, Joyce (Bill) Erickson, Marlene (Jim) Juris, and Betty Lou (Bob) Riewe, as well as her 14 grandchildren and 23 great grandchildren. She is also survived by numerous nieces and nephews. Mary immigrated to the Coalhurst area at age 16 along with her mother and 2 younger sisters. Her father had arrived 10 years prior and worked hard to purchase land and build a home for them. At age 19, she married Bert Medve and settled on a farm just outside of Picture Butte. They farmed there until retiring to Lethbridge in 1972. Raising 6 children, growing a huge garden working in the fields along with other chores occupied much of Mary's time. However she still managed to sew her 4 daughters all their pretty dresses whenever a special event came up, crochet beautiful creations of all shapes and sizes and finish large needlepoint pictures of Blue Boy and Pinky. Her talents as a cook were well recognized by neighbors and friends. Her delicious crispy fried chicken and amazingly deep lemon meringue pie graced the family table for many memorable meals. Mary was a member of the former Order Of The Royal Purple Picture Butte Lodge #76. Her retirement in Lethbridge was filled with gardening, socializing and grand-mothering. Humorously she developed such a passion for baseball and the Blue Jays that no outside intrusion was acceptable during a game. A Private Family Interment will be held on Monday, July 14, 2014, followed by a reception for friends and family at COUNTRY KITCHEN CATERING, 1715 Mayor Magrath Drive South, Lethbridge from 1:00pm-4:00pm.