HANSON
Posted: October 9th, 2012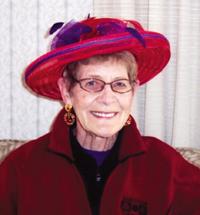 Winnifred Anne Verpy or Pat, as she was known, was born in Frontier, Saskatchewan on August 3, 1938. She spent her early childhood on the family farm near Loomis and went to school in Loomis until her familiy moved to Eastend, where she finished her schooling.
Auntie Pat was very athletic as a young lady and excelled at basketball and softball. She was also very musical and sang as well as playing piano and guitar. After school she moved to Saskatoon where she took her nurses' aide training and then worked in hospitals in B.C. and Alberta before moving to Maple Creek.
In Maple Creek she met Floyd Hanson and they married on December 7, 1968. On June 9 of the following year their first son Craig was born, followed closely by Kevin on June 30 of 1971. Auntie Pat worked at the hospital in Maple Creek until she and Floyd moved to the ranch in Eastend in 1989. Auntie Pat worked in Eastend for a few more years until she retired.
When I was a little kid because both of my parents worked, I stayed with  my Grandma Anne most days. However, on the days that Grandma was unavailable, I got to go stay with Auntie Pat. My days with Auntie Pat were some of the best days of my childhood. Every day was an adventure – an adventure that largely involved spoiling me rotten. Every day at Auntie Pat's began with a brand new toy that she'd bought. Then we'd go to the spare bedroom where there was a drawer with every shape and size of balloon imaginable. We'd blow them and make balloon animals or simply bat them around. I'm told I'd also cry every time they popped, but I was easily consoled by offers of candy and pop, which was basically in unlimited abundance at Auntie Pat's house. To quote Auntie Pat, "No kid was ever hurt by candy." Then we'd go out into the yard to play. For any of you who were not lucky enough to see Auntie Pat's yard, I will briefly describe it. Her very large lawn was composed entirely of perfectly trimmed green grass. She did not allow anything else to even begin growing. Every clover or dandelion that reared its ugly head was immediately pulled. Her perennials were perfect, with no dead blooms ever left on the plant. Her trees were trimmed and her garden was fruitful. Her yard was perfect.
Days at Auntie Pat's also involved watching the Cartoon Network, which had all of the less-than-educational programming that kids love and moms do not.
Apart from spoiling me rotten and playing with me endlessly, I learned so many important life lessons from Auntie Pat.
Auntie Pat loved Halloween. My earliest Halloween memory is going up to Auntie Pat and Uncle Floyd's to trick-or-treat, and being welcomed at the door by a tall red figure with a hideously deformed face slathered in clown make-up. I'd never been more terrified by anything in my life. Suddenly, the clown reached up and pulled off its mask to reveal itself as Auntie Pat. After allaying my fear she filled up my bag with more candy than I could hope to ever consume at four years old. From Auntie Pat I gleaned a love of Halloween, of having outrageously silly and scary costumes, but more so I learned that you never have to stop being a kid at heart. Later in life Auntie Pat joined the Red Hat ladies and I'm told never had so much fun as the night they had their pajama party.
Auntie Pat was an unbelievebaly hard worker and an undeniable perfectionist. From her yard to her house, everything was neat and spotless. Her house and yard were always wonderfully decorated for the season, as were the rails by the entrance to the ranch, as anyone travelling the 614 could tell you. Once, Auntie Pat hired me to help her around the yard and I was laying brick to create a sort of walkway and because the walkway was not straight, the bricks didn't fit squarely together. But instead of leaving parts of the path without brick, she instead explained to me that I was to find broken bits from some older bricks and fit them into the holes. Auntie Pat wasn't going to tolerate anything less than perfect. And I did just that, because Auntie Pat was also very persuasive and almost always got what she wanted. This is something else from Auntie Pat I try to emulate in my life.
Auntie Pat was ubelievably generous. She loved to give funny gifts, cards and knick knacks that displayed the not-so-nice effects of aging, or the sillier side to western life. For some of their more recent birthdays, she gifted some of my aunts and uncles canes with some additions to help them in their old age, such as spray to ward off perverse old men or a funnel in case my uncle was struggling to use the toilet.
She loved to give presents to us kids as well. One year after Christmas  she caught wind that I might have peeked at one of my presents by tearing a corner off the package. Well, the next year my Christmas present arrived under the tree wrapped as follows – tied in a plastic grocery bag, which was tied inside another plastic grocery bag, which was bound tightly with scotch tape and then tied up inside of another two grocery bags which was bound again with scotch tape. The package was then wrapped in several newspapers, taped and then wrapped in a heavier plastic bag which was bound tightly in packing tape. After a few more layers of newspaper she then wrapped it up in an extra strength garbage bag which was wound impermeably with duct tape. So basically I did not get to peek at my present from Auntie Pat that Christmas.
This story also showcases Auntie Pat's sense of humour. She was wickedly funny and loved playing pranks on co-workers when she worked. She also loved Halloween becasue she loved to fool people from behind a mask, whether it be a neighbour alone at night, or some of the seniors at the lodge. Auntie Pat also mastered working the one liner into her daily conversation. When she was in the hospital in Swift Current she asked my Grandma and Grandpa to pick her up some cherries. After rinsing the cherries in her sink, my Grandpa Pete set them on her bedside table, which because of her limited mobility she was unable to reach. She looked across at the cherries and then back down and said, "Well, isn't that just like a man."
Auntie Pat loved shocking or silly home decor and one of her favorites was a Santa Claus face that hung near the front door. When anyone came to visit at Christmas time and she noticed them checking out her decoration, she'd tell them to give it's beard a little tug. The visitor would then be sprayed in the face by a stream of water from the mouth of Santa, much to Auntie Pat's delight.
Auntie Pat was endlessly supportive of my sister and I, and came to every elementary school track and field, Christmas concert, play or school carnival that we were involved in. She would then take us in to the Credit Union Sunday in the Park every year. She even drove my sister  to get her appendix out, but not before covering the seat with plastic so as to protect her clean new car from whatever might happen to Jannis along the way.
Aside from learning all of these wonderful lessons from Auntie Pat, these are the characteristics that I am going to miss most. Auntie Pat treated us kids royally, like grandkids and we loved her like a Grandma. And I am going to miss her so much.
Thank you.
Pat is survived by husband Floyd; sons Craig (Shelly) Woodward of Saskatoon, Kevin (Kendra Moore); sisters Joan Stuber, brother Harvey Verpy, as well as several nephews and nieces.
She was predceased by her parents Henry and Laura Verpy.
The funeral services were held in Eastend United Church in Eastend, Sask. on Mon., Sept. 24, 2012 at 2 p.m. with Rev. Ken Schrag officiating. Interment will take place at a later date. Active pallbearers were John Verpy, Allen Verpy, Dale Glassford, Roy Hanson, James Hanson, Ronald Glassford.
Friends who wish to may remember Pat with gifts to the Wolf Willow Health Care Centre in Eastend or to the Cancer Society.
To All My Loved Ones
When I must leave you for a little while, Please do not grieve and shed wild tears, And hug your sorrow to you through the years. But start out bravely with a gallant smile; And for my sake and in my name, Live on and do all the things the same. Feed not your loneliness on empty days, but fill each waking hour in useful ways. Reach out your hand in comfort and cheer, and I in turn will comfort you and hold you near; and never, never be afraid to die, For I am waiting for you in the sky.
To email an expression of sympathy you may visit www.gonebutnotforgotten.ca.
Binkley's Funeral Service Maple Creek and Leader, in charge of arrangements. 306-662-2292.