MANN
Posted: October 31st, 2012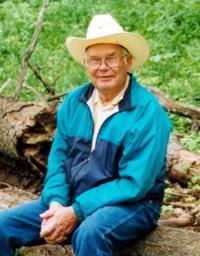 Robert Stephen Mann was born May 17, 1929 in Maple Creek and passed away on October 15, 2012 in Maple Creek.
Robert was raised on the family ranch at Skull Creek with his sister Helen and brother David. It was a happy childhood with his Bennetto and Mann cousins as well many friends up and down the creek.
The Skull Creek community was close knit and centered around home and school. The ranch was a rural post office. Mail was delivered every Friday and this brought visitors for mail day. Manville school was also a community center with school, church and social activities such as dances, Christmas concerts and plays to raise money for the curling rink.
The family had strong religious roots – Anglican on his dad's side but his mother always considered herself Presbyterian. After the Manville services, the minister often ended up at one of the Mann households for tea and Sunday dinner. After Manville closed, services were taken at St. Andrews in Tompkins and St. Mary the Virgin in Maple Creek.
Robert learned a love of nature, life and people from his father, Steve and a strong work and moral ethic from his mother, Marjorie.
He went to school at Skull Creek and then Manville schools. He took his high school in Maple Creek where he and many children boarded. He made many lifetime friends and told many stories of good times and incidents that happened while there.
He then went to School of Agriculture in Saskatoon where he received his diploma in agriculture. Here he met his wife-to-be Betty Long, who was in the nursing degree program with his sister Helen. At high school Helen had dubbed him with the nickname "Julius" from Julius Caesar. Betty remembers always thinking that his name really was Julius until she actually met him. He married Betty  and Helen married a good friend, Ray Schuler. Their two families remain very close to this day.
At both high school and university he complained of being homesick for the ranch. After university he returned to ranch with his father and later his son. He was truly interested in the nature of farming and he always felt he could introduce innovations to improve the farm, whether it was machinery, cattle breeding or management techniques. Some experiments were unsuccessful, but many led to permanent improvements. He began performance testing the cattle herd in the early 1960s, being the first commercial operator in Saskatchewan to do so. He was the first producer in the area to use a Noble Blade, a round baler, AI and crossbreed cattle. He was interested in increasing the productivity of his grassland and followed with interest research done at the Swift Current Research Station, introducing new tame grass species to the ranch. He was a willing co-operator for demonstration projects and was a member of the Southwest Forage Association through which he provided cattle for forage trials. In 1972, he imported five Simmental heifers and a bull from Switzerland, one of the first importations of "exotic" cattle in Canada. One of his proudest moments was when he sold the top-selling Simmental bull at an Iowa Simmental sale. He was honoured as one of the founding members of the Canadian Simmental Association at the 35th annual meeting in 2004.
He was a member of the Saskatchewan Stock Grower's Association, the Canadian Cattleman's Association and the Saskatchewan Wheat Pool. He was a lifetime member of the Oddfellows and took great pride in going through the offices.
He was always available to help someone in need. He tended to think globally. When the reeve of the RM approached him thinking they should extend the road that would give better access to the back of the ranch, he refused as he felt others needed roads elsewhere and it wouldn't be in the best interest of the community. Like all in Skull Creek district, when disaster struck in the community, he would drop everything to go and help. Every grass fire, flood, untimely death he spent time helping out. At Christmas time he would give the priest money saying, "You know a family who needs some help better than I do."
While he worked hard, dad felt that fun was to be had near home as well. It could be water skiing with Eccleston's boat on Crane Lake, the last time it had water in it (57 years ago) or teaching his sons to curl at the Skull Creek rink…even if they had to use both hacks to push the rocks down the always frosty natural ice. Dancing and gopher hunts were popular pastimes with friends.
Robert and Betty were blessed with four children, Patty (Peter) Robertshaw, Jim (Donna), Doug (Crystal) and Marjorie. Their family was further extended with eight grandchildren and four great grandchildren. He took pride in the activities and accomplishments of each of the children and grandchildren. Extensions to the family, whether nieces and nephews, his children's and grandchildren's college friends or spouses were always welcome additions, and he would spend hours talking about how and why things were done the way they were.
He left to his children his ability to know and accept people as they truly are. He loved to visit and could talk to even a total stranger, get to know their life history and what they were really about. He taught his children that there may be a hard road being traveled behind a person's exterior veneer…such as the intelligent man who had been debilitated by sleeping sickness in his youth but talked politics with the astuteness of a political correspondent or the Polish immigrant who had been a trumpeter in the Polish army but had escaped occupied Poland on the bottom of a box car and who would spend Sunday afternoons at the ranch sharing his love of music.
Dad was a changed man over the last five years. Affected by Alzheimer's, a grievous disease, his world became progressively smaller as he lost his ability to drive, to tinker in the shop and to do artwork. However, it is interesting what is remembered as he was able to sing old time hymns with his grandson Riley just days before he passed. He will be interred at the ranch's family cemetery with the other generations of his family.
The funeral service was held in St. Mary's Anglican Church in Maple Creek on Wed., Oct. 24, 2012 at 2 p.m. with Rev. Peter Boote officiating. Urn bearer was Rory Mann. Interment will take place at a later date in the Mann family cemetery at the ranch in the Skull Creek district. Honorary pallbearers were all those who shared in Robert's life.
Friends who wish to, may remember Robert with a gift to the Dr. Noble Irwin Foundation c/o MNP in Maple Creek for the new Southwest Hospital Equipment Fund or to the Canadian Alzheimer's Society.
To email an expression of sympathy you may visit www.gonebutnotforgotten.ca.
Binkley's Funeral Service, Maple Creek and Leader, in charge of arrangements. 306-662-2292.