BROWN
Posted: November 23rd, 2012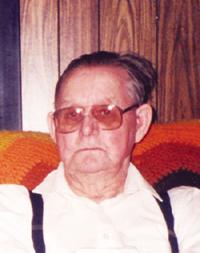 Harold Edwin Brown was born on December 25, 1923 to William and Delia Brown.
He was the seventh of 12 children. He worked for Gilchrists, Wendall Pedersen and Henry Behrman and then started farming on his own around 1954.
They lived on the farm until 1995 when  Harold's health caused them to move to Maple Creek. They lived in an apartment until 1997, then moved to the Sun-Glo, where he lived until his passing.
Harold was a loving Dad, Grandpa and Great Grandpa. One of his many talents was to fix almost anything mechanical. Another was his amazing memory for remembering birthdays and the year people were born.
He was predeceased by his wife Marian in 2005. Survived by one son Jim (Linda) Brown, Karla (Jason) Rohleder, Tabitha and Isaac, Scott (Lynette) Brown, Tim, Martina, Elisha and Daniel, and Darryl Brown. One sister Edith Reamer, brother Don (Shirley) Brown, brothers-in-law Bob (Millie) Watson, Gordon (Agnes) Watson, Edward Watson; sisters-in-law Betty Laface, Ruth Lewis, Betty Brown, Margaret Brown, Nellie Brown, as well as many nieces and nephews.
There was a private family burial at the Robsart Cemetery on November 16 with Lynn Needham officiating.
Donations in memory of Harold may be made to the Consul Skating Rink.
To email an expression of sympathy you may visit www.gonebutnotforgotten.ca.
Binkley's Funeral Service, Maple Creek and Leader, in charge of arrangements. 306-662-2292.