YATES
Posted: December 27th, 2012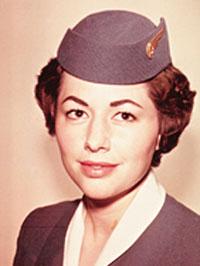 Judy (Underwood)
1942-2012
Judy was born February 4, 1942 in Medicine Hat, Alberta to Jack and Grace (Minor) Underwood. She was raised on a farm near the village of Abbey, Saskatchewan where she attended school. In 1956 the family moved to Medicine Hat where Judy graduated from High School in 1960. She moved to Saskatoon and worked as a legal secretary for a law firm for two years. In 1962, Judy moved to Montreal where she trained as a Trans Canada Airline Stewardess. She was based in Toronto for two years before transferring to Calgary. I n 1966, Judy married Ed Yates, a teacher with the Calgary Board of Education. They lived in downtown Sundial Apartment Building that year. In 1967, they bought their first home in Lake Bonavista Estates. Judy retired from the air lines in 1967 and worked for the Calgary Brewery Marketing Department for two years. Between 1970 and 1976 Judy brought four sons into the world – Darren, Murray, Kevin and Colin. In 1982 Ed became Superintendent of Schools for the County of Ponoka. The family moved to Red Deer, Alberta in a new home in Country Club Estates. In 1987 the Yates' family owned and operated their own property management company. In 1996, with the boys gone, they started traveling again taking trips throughout North America, Caribbean, Mexico, Hawaii, England, Wales, Ireland and the Mediterranean. Judy's pastimes were crosswords, scrabble, reading, writing, piano playing, painting, scrap booking, family history and walking in the park with her dogs. Judy survived a brain tumor in 1988. In 2002 she was diagnosed with Type 2 diabetes and in 2010 with colon and lung cancer. She passed over on December 9, 2012.
Judy became a grandmother to two boys; Kaeden in 2001 and Issac in 2008. Besides her family of seven males, Judy is survived by two siblings, Jim and Merle and their families, sister-in-law Irene and her family and numerous Underwood and
Minor relatives and many lifelong friends.
Judy was predeceased by her parents Jack and Grace Underwood, brother Chuck and parents-in-law Tom and Mary Yates.
At Judy's request, there will be no funeral service. Urn internment will be at Abbey Cemetery, Abbey, Saskatchewan at a later date. Cremation arrangements with Eventide Funeral Home in Red Deer.