STRYKER
Posted: December 31st, 2012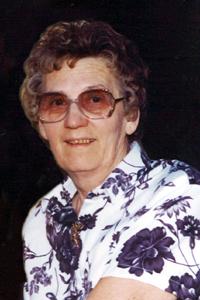 EMILE "EMMA" STRYKER of Bow Island, beloved husband of the late Earl Stryker, passed away on Thursday, December 27, 2012 at the age of 90 years.
Emma was born on January 6, 1922. She immigrated to Canada from Yugoslavia with her parents and two sisters in 1934 and settled north of Manyberries, AB. In 1943 she married married Earl Stryker and lived south of Orion until moving to the Foremost area in 1966. In 1975 they retired to Lethbridge. In 2007 she moved to Bow Island to reside in Pleasant View Lodge, where she called home until her passing.
Emma enjoyed a quiet life. She embraced farm life as she raised and guided her sons on the farm. Emma loved her family and loved being a grandma. She was particularly fond of gardening. In her early years she kept a big yard and garden and later in her life nurtured her plants in her room. She liked to keep her hands in the soil.
Emma is survived by her two sons, Daniel (Brenda) Stryker, and Paul Stryker of Foremost and her two grandsons, Kent Stryker of Foremost and Trevor Stryker of Coaldale. She is also survived by her sister Rose Stryker and brother George (Doreen) Bechtloff as well as numerous nieces, nephews and their families.
Besides her loving husband Earl, she was predeceased by her parents Anna and Karl Bechtloff, her sister Minnie Jetter and her daughter-in-law Blythe Stryker.
A Funeral Service will be held at 1:00 PM on Thursday, January 3, 2013, at MARTIN BROTHERS RIVERVIEW CHAPEL, 610 – 4th Street South, Lethbridge, AB., with Rev. Mac DeWaal officiating. A private family burial will take place at Mountain View Cemetery.
Flowers are gratefully declined. Those who wish, memorial donations may be made to Pleasant View Lodge, 1039 1 St. East, Bow Island, AB., T0K 0G0.
Funeral arrangements entrusted to Martin Brothers Funeral Chapels Ltd. 1-800-382-2901. Send condolences at www.mbfunerals.com.