EWACH
Posted: January 17th, 2013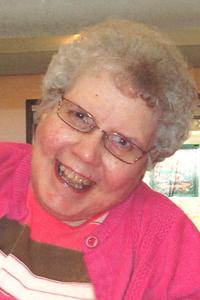 CAROL LEE EWACH (nee Dillenbeck) passed away after a brief illness, on Monday January 14, 2013 at the Bow Island Health Centre at the age of 71 years.
She leaves to cherish her memory children Ken Ewach of Manning and Catherine (Paul) Lubitz of Canmore and her grandchildren Sheena, Colby, Austin, and Hayden; sister Charlotte (Bill) Buis of Foremost, and sister-in-law Lyn Dillenbeck of Foremost. She was predeceased by her parents Cecil and Ann Dillenbeck of Foremost and her brother Bryan Dillenbeck also of Foremost. She enjoyed her visits with her nephew Lorne (Kerri) Buis of Foremost, and nieces Lisa (Warren) Bechthold of Foremost and Chris (Ron) Preddy of Lethbridge.
Carol was born on December 4, 1941 and attended school in Foremost. Following Graduation she attended SAIT in Calgary. She was employed in the hospital dietary department in Manning, Alberta. She was married to Harry Ewach of Manning , Alberta in 1972. She moved to Foremost in 1997 where she lived with her mother until her health deteriorated due to a degenerative disease called Leukoencephalopathy and she moved to the Bow Island Health Centre Extendicare unit. Carol loved her children dearly and loved to travel to Hawaii and the Caribbean even though her disability worsened. She also loved doing puzzles and the Calgary Flames were her team.
A Funeral Service was held at 11:00am on Saturday, January 19, 2013 at the FOREMOST UNITED CHURCH with Pastor Sheila McLeod officiating.
Flowers are gratefully declined. Those who wish, memorial donations may be made to the Bow Island Health Centre Bag 3990, Bow Island Alberta, T0K 0G0.
Funeral arrangements entrusted to Martin Brothers Funeral Chapels Ltd. 1-800-382-2901.
Send condolences at www.mbfunerals.com.