GERMANN
Posted: February 14th, 2013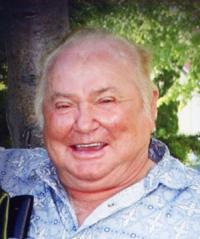 Garry (Gerhardt) Adam Germann passed away January 29, 2013 at home, the way he wanted it. He was born on July 12, 1938 in Empress, Alta.
He was raised on a farm around Fox Valley, Maple Creek area. Garry was the third of six children born to Barbra (Stark) and Adam Germann.
He met Joyce Heller in 1960 and they were married in Oct. 14, 1961. The following year the first of three daughters was born. He is survived by his daughters and their families: Muriel Ann Thomas, Dustin and Adam; Diane Rose Bird (Randy), Logan, Shelby and Kristy; Della Marie Germann-Walter (Darren).
Mom and Dad lived here in Maple Creek for most of their lives. Dad loved to garden, every year he put a big garden in. Dad gave lots of vegetables to friends and family after we had made our huge pots of borscht.
Dad loved building things. He always said that the day he stopped working is the day he would be six feet under. He also loved to meet new people. With the Willowbend Campground he was able to meet many people from Europe to England and all over North America. He thoroughly enjoyed every minute. He loved to travel every fall to his place in Yuma, Az, where he would brag to us girls how warm it was there and how cold we have it here.
He is survived by his daughters, two sons-in-law, five grandchildren, numerous nieces and nephews.
He is predeceased by his parents Adam and Barbra, his wife Joyce, his brothers and his sister.
We want to thank everyone who was a part of Dad's life.
Please don't cry for me, for I am happy, no pain, no loneliness and no TAXES.
I am with my wife Joyce and that's where I should be. In my garden in the sky.
So have a drink on me and remember cherish and enjoy life with your families.
The funeral service was held at the Salvation Army in Maple Creek, Sask. on Wed., Feb. 6, 2013 at 2 p.m. with Captain Ed Dean officiating. Interment took place at the Maple Creek Cemetery. Active pallbearers were Logan Bird, Merlin Koch, Jason Germann, Peter Koch, Brian Klein, Kent Harrigan. Honorary pallbearers were Vince Schell, Glenn Wiebe, Ron Schaal, Wes Heller.
Friends who wish to, may remember Garry with a gift to the Southwest Healthcare Trust c/o of the Cypress Credit Union.
To email an expression of sympathy you may visit www.gonebutnotforgotten.ca.
Binkley's Funeral Service, Maple Creek and Leader, in charge of arrangements. 306-662-2292.