LARKCOM
Posted: February 14th, 2013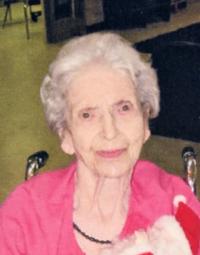 Cathie was born at Sunderland, England Aug. 7, 1916 to Richard and Dorothy Blake, the eldest of six children.
She was predeceased by her parents, two sisters and her husband Steve.
She is survived by one brother Richard, two sisters Dorothy and Mary and several nieces and nephews.
Cathie had a very interesting life. She became a nurse, and nursing took her all over the world, starting in England going through the Second World War then to Africa and then to Canada, where she met and married her husband, Steve, and settled down in Tompkins.
Cathie was a private person, she loved to travel and teaching her nieces and nephews to play all kinds of games and she read every  book she could get her hands on.
After Steve died in 1961 she went back nursing. She retired from nursing in 1978 and came back to Tompkins where she lived until moving to Autumn House and finally to Cypress Lodge, where she passed away on Feb. 1 at the age of 96.
The funeral service was held at St. Lawrence Catholic Church in Maple Creek, Sask. on Fri., Feb. 8, 2013 at 11 a.m. with Fr. V. Amobi officiating. Interment took place at the Tompkins Cemetery. Active pallbearers were Don Saynor, Laird Murray, Bailey Lagrange, Jason Murray, Kelly Bertram, Parker Lagrange. Honorary pallbearers were all those who shared in Catherine's life.
Friends who wish to, may remember Catherine with a gift to the Cypress Lodge for resident activities or to the charity of one's choice.
To email an expression of sympathy you may visit www.gonebutnotforgotten.ca.
Binkley's Funeral Service, Maple Creek and Leader, in charge of arrangements. 306-662-2292.