1930 ~ STIMSON ~ 2013
Posted: April 1st, 2013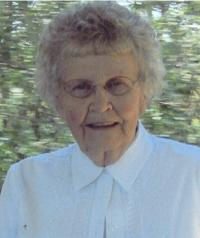 The Stimson family is saddened to announce the passing of our beloved mother, Dona Pauline Stimson, on March 29th, 2013 at the Leader Hospital. Dona was born in Frontier, Saskatchewan on July 18th, 1930, the youngest child of Ray and Anna Marietta. She was predeceased by an infant son, Ronald in 1958; her husband, Park in 2006; her son, Barry in 2010; her parents and all of her brothers and sisters. She is lovingly remembered by her children, Lynda (Roger), Larry (Mary), Stan (Marlene), Gary (Anita), and Barry's wife (Marie). Mom was especially proud of her 18 grandchildren, 31 great-grandchildren and they in turn truly loved her. Mom was kind, thoughtful, gentle, and loving. She was loyal to her family and had a genuine concern for others…no one ever left the ranch on an empty stomach. Mom dedicated her life to Dad, her family, friends and ranching. She enjoyed her flower beds, bird feeders, gardening…producing annual bumper crops, family gatherings and playing cards, winning most games with a giggle.
Our family and friends will miss her dearly but her memories will be cherished forever. The family would like to acknowledge the nurses for their compassionate care of Mom. The Funeral Service will be held at ST BARNABAS ANGLICAN CHURCH, 635 – 4th Street SE, on April 2nd, 2013 at 2:00 p.m. Interment will follow in the Family Plot at Hillside Cemetery. In lieu of flowers, the family requests donations be made to the Leader Hospital, Box 129, Leader, Saskatchewan, S0N 1H0, or to the Saskatchewan Heart & Stroke Foundation, 279 – 3rd Avenue North, Saskatoon, Saskatchewan, S7K 2H8. Condolences may be sent through www.saamis.com or www. gonebutnotforgotten.ca or to condolences@saamis.com subject heading Dona Stimson. Funeral arrangements are entrusted to SAAMIS MEMORIAL FUNERAL CHAPEL AND CREMATORIUM, "The Chapel in the Park", locally owned and directed. Should you wish any additional information, please telephone 528-2599.