AMUNDSON
Posted: June 25th, 2013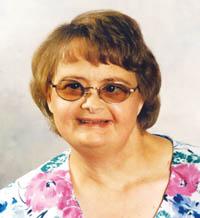 Audrey Lynne Amundson was born on Oct. 10, 1952 to Ralph and Geneva Amundson, in the Maple Creek Hospital. She passed away on June 19, 2013 at Cypress Nursing Home.
Audrey was predeceased by her mother on Dec. 23, 1954, her father on Nov. 4, 1997, her brother Clark on July 12, 2008.
The family left to support her are her stepmother Molly, her brother Tim (Joyce), her sister Karen and sister Candice (Russ), also nieces and nephews along with grand nieces and nephews.
Audrey was a happy person and always looked for the best. She spent her childhood on the farm at Robsart. In 1965, she began to spend part of her time living with her grandmother Pearl Anderson in Medicine Hat and attended George P. Vanier School and the sheltered workshop there. In 1982 she joined the family now living in Maple Creek.
She looked forward to going to camp Olympics for a week every summer for many years. She was one of the first workers at Sarcan and was employed as a can crusher for five years.
In 2000 she moved into the Group Home to live with her friends and attend the workshop there. Due to declining health she was accepted into the nursing home in 2005.
The family is very grateful to the staff for the care and consideration she received there.
To email an expression of sympathy, you may visit www.gonebutnotforgotten.ca.
Binkley's Funeral Service, Maple Creek and Leader, in charge of arrangements. 306-662-2292.