AUBREY ERNEST BENDALL
Posted: August 19th, 2013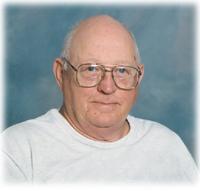 July 29, 1927  ~  August 13, 2013
Mr. Aubrey Bendall passed away peacefully at the Brooks Health Care Centre on Tuesday, August 13, 2013, at the age of 86 years.  Aubrey Ernest Bendall was born on July 29, 1927 in Saskatoon, SK., to Albert 'Bert' and Mary 'Maimie' Bendall (nee Watson).  He was the oldest of four children, and the only one to live past the age of two.  When he was just nine months old, the family moved to a farm in Cappis, AB., later moving to Bindloss, AB.  This is where he went to school, receiving his education in a multi-grade, one room school.  At the age of fifteen, Aubrey quit school and worked on farms in the surrounding area until 1959 when he moved to Banff, AB., and took on work in a grocery store.  His father took over the UFA in 1962, and Aubrey returned home to work with him in the fuel business.  Later on, the family took on the contract for the Post Office.  When Bert retired, Aubrey let go of the UFA contract, keeping the Post Office and starting a confectionary that he operated until he retired.  In 2003, he moved to Medicine Hat, and in March of this year, moved to the Sunrise Gardens Nursing Care Facility in Brooks.  His stay in the Brooks Health Centre was short, but the staff liked him!  He often joked and was noted as a pleasure to be around.  Aubrey was a very community minded individual who was always there to help anyone in need.  This was evident through his years of commitment as a volunteer firefighter.  Aubrey loved the outdoors, whether camping, fishing or going out looking for more arrowheads and other Native American artifacts to add to his impressive collection.  He will be remembered as a devoted son, good friend to many and a strong member of each community he lived in.  Aubrey is survived by his mother's sister, Marjorie Ellen Florence;  cousins, Darrel Florence, Roger Florence, Cheryl Robinson, Albert Florence and Hope Florence and their families;  extended family from his father's side of the family in England as well as numerous life-long friends.  Those wishing to pay their respects may do so starting one hour prior to the Funeral Service which will be held at Cook Southland Funeral Chapel, 901 – 13 Street S.W., Medicine Hat on Wednesday, August 21, 2013, at 10:00 A.M. with Rev. Dr. Shane Andrus officiating.  Interment will follow at Hillside Cemetery with a time of fellowship thereafter in the Cook Southland Reception Facility.   (Condolences may be expressed by visiting www.cooksouthland.com)  If friends so desire, Memorial Tributes in Aubrey's name may be made directly to the Alberta Children's Hospital Foundation, 2888 Shaganappi Trail N.W., Calgary, Alberta, T3B 6A8.  Honoured to serve the family is COOK SOUTHLAND Funeral Chapel, 901 – 13 Street S.W., Medicine Hat, Alberta, T1A 4V4.  Telephone:  403-527-6455.
VANELLA IWANOV-KOHLS
1961 ~ 2013
The clock of life
is wound but once,
and no man has the power to tell
just when the hands will stop,
on what day or what hour.
Now is the only time you have,
so live it with a will.
Don't wait until tomorrow,
the hands may then be still.
Vanella Iwanov-Kohls, beautiful wife, mother, grandmother, daughter, sister and friend, passed away peacefully on Friday, August 16, 2013, at the age of 52 years.  She was the loving wife of Darren Kohls, and the wonderful mother of three daughters:   Braydel Kohls,  Lyra Selk and her children, Skylar and Rhylan;  Nataca Iwanov and her children, Kadan, Kalan, Nataya and Natavya.  Those wishing to pay their respects may do so at Cook Southland Funeral Chapel, 901 – 13 Street S.W., Medicine Hat on Monday, August 19, 2013, between 7:00 P.M. and 8:00 P.M.  The Graveside Service will be held at Hillside Cemetery on Tuesday, August 20, 2013, at 10:00 A.M.  Those wishing to attend the Graveside Service are invited to gather at Cook Southland Funeral Chapel between 9:30 A.M. and 9:45 A.M. to join the procession to Hillside Cemetery.  A luncheon and life celebration will follow in the Cook Southland Reception Facility at 10:30 A.M.  (Condolences may be expressed by visiting www.cooksouthland.com)  Honoured to serve the family is Cook Southland Funeral Chapel, 901 – 13th Street S.W. Medicine Hat, Alberta T1A 4V4 Phone 403-527-6455