MITSUE MARGARET SAKAMOTO
Posted: September 13th, 2013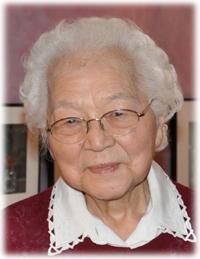 June 10, 1920 ~ September 10, 2013
Mitsue Margaret Sakamoto passed away on September 10, 2013 at the age of 93 years.  Margaret was predeceased in 2010 by her husband of 68 years, Hideo Bob Sakamoto.  She leaves to cherish her memory her three children and their families:  Ron & Joyce and their family;  Shawn & Carrie Sakamoto (Parker, Quintin, & Lennon), Sasha & Scott Mahan (Lachlan & Cadan), and Jeremy & Robin Sakamoto (Alexis):  Glory & Gary Oseki and their family;  Todd Oseki, and Lana & Cory Cavazzi (Payton & Ella):  Stan & Susan and their family;  Cameron & Kim Dennison, Chad & Theresa Dennison (Emmett & Calla), Mark & Jade Sakamoto (Miya & Tomi), Carrick Dennison & Amanda Bokamyer, Daniel & Carly Sakamoto (Samuel), Logan Dennison & Jonelle Gladue, and Kumiko Sakamoto.  She is also survived by her sisters Susanne Hikida and Mary Nishimura, her sisters-in-law June Hinatsu, Kay Oseki, and Shizuko Sakamoto (Japan) and their families.  She was predeceased by her brothers Eichi and Toru Oseki.
Margaret was born in Eburne, BC (now part of Vancouver) in 1920, daughter of Yosuke and Tomi Oseki. She graduated from Magee High School and moved to Vancouver to continue her studies in dressmaking and design.  She worked in Vancouver as a dressmaker until her family was uprooted and sent to Coaldale, AB during the Japanese evacuation in 1942.  The Sakamoto family moved to Medicine Hat in 1948 where they operated a market garden until 1993.  Margaret also worked at Dominion Glass until she retired at the age of 62.
Margaret did not dwell on the injustices she suffered in her lifetime.   Hardship could not impeach her remarkably warm and generous heart.  There was always one more seat around her kitchen table, which was a blessing because she was a tremendous cook!  There was always time for an encouraging word while sharing a cup of ocha.  Her family was her proudest achievement and she showered all of us with a love so patient and so pure it is sure to be felt for the rest of our days. It will be passed down.
A celebration of Margaret's life will be held at Cook Southland Funeral Chapel, 901 – 13 Street S.W., Medicine Hat on Saturday, September 28, 2013 at 1:30 p.m., followed by a luncheon in the Grandstand Banquet Room at the Medicine Hat Exhibition & Stampede grounds.  A family service and burial of ashes will take place on Saturday, October 5, 2013 in Vancouver.
In lieu of koden and flowers, donations to the Canadian Cancer Society would be appreciated.  (Condolences may be expressed by visiting www.cooksouthland.com).  Honoured to serve the family is COOK SOUTHLAND Funeral Chapel, 901 – 13 Street S.W., Medicine Hat, Alberta, T1A 4V4.  Telephone:  403-527-6455.