JERRY WATTS
Posted: November 22nd, 2013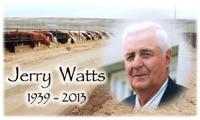 Every man dies, not every man truly lives…
Jerry was a man that lived his life right up until the end. He will leave us all with a trail of memories. As a husband he will be remembered for his generous nature, years of companionship, trips to Vegas and Victoria and the requirement to have three square meals a day. As a father he will be remembered for his leadership, generousity and his love of cattle. As a grandfather he will be remembered for his snow white hair, his towering stature, his attendance at hockey games, dilly bars, the trips to the casino to win "us" money and the ever present meals at the restaurant, especially "Prime Rib Friday's" at the Beefeater. As a friend, there will be the stories of the Team Roping days, the many brandings and his ability to always be available for a card game. Gerald Dale Watts passed away peacefully at the St. Joseph's Home Carmel Hospice with his loving family by his side on Tuesday, November 19, 2013 at the age of 74 years. Jerry was born in Eatonia, Saskatchewan on February 16, 1939. He was the oldest child and only son of David and Marjorie Watts. Coming into this world at a strapping 12 pounds, Jerry was always known for his larger than life presence. In Grade 9, he was required to quit school to take over farming responsibilities due to his father's illness. Jerry started in the farming industry but his first love was ranching. He spent the years growing the ranch and feedlot which he was able to operate with his sons over the last many years. Jerry was a family man. He spent many hours with them farming, doing the chores and then travelling many miles on the road for hockey. The joy came when he became a Grandfather. His grandchildren gave him much pleasure. He was a man that struggled over the years with various health issues, but still maintained an amazing quality of life. He retained his ever present smile, and a joke or two for the nurses right up until the end. Jerry will forever be loved and remembered by his wife of 48 years, Joan; his sons, Darryl (Zerlina), Brent (Lana), Kim (Leanne) Travis (Tara) and grandchildren, Jayelle, Taylor, Ty, Brayden, Kourtney, Aaron, Shaunda, Evan, Haylie, Austin, Brynn and Brooke; his sisters, Gail (Wayne) Holmes and Bonnie Shore; his brothers and sisters-in-law, Jack (Marilyn) Taylor, Wayne (Veronica) Taylor and Patty Evanisky. He was predeceased by his parents, David and Marjorie Watts; in-laws, Howard and Mildred Taylor as well as brothers-in-law, Bill Shore and Alex Evanisky. A celebration of Jerry's life will be held at Cook Southland Funeral Chapel, 901 – 13 Street S.W. Medicine Hat on Tuesday, November 26, 2013, at 2:00 p.m. with Bill Thomson officiating. A Private Graveside Service will follow at Hillside Cemetery with a time of fellowship thereafter in the Cook Southland Reception Center. (Condolences may be expressed by visiting www.cooksouthland.com) If friends so desire, memorial donations in memory of Jerry may be made directly to the St. Joseph's Home Carmel Hospice, 156 – 3 Street N.E., Medicine Hat, Alberta, T1A 5M1.
"We invite you to wear casual attire"
Honoured to serve the family is COOK SOUTHLAND Funeral Chapel, 901 – 13 Street S.W., Medicine Hat, Alberta, T1A 4V4. Telephone: 403-527-6455.