AINO VILHELMINA NISSINEN
Posted: August 1st, 2014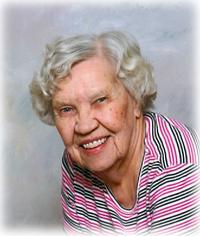 August 30, 1927 ~ July 23, 2014
Aino Nissinen of Medicine Hat moved peacefully to heaven on Wednesday, July 23, 2014, at the age of 86 years.  Aino was born on August 30, 1927, on a small family farm in Marttissenjarvi, Finland. She was always bright and inquisitive as the fourth of eight children and would have gone beyond her grade eight education had she been given the opportunity.  She had a great life growing up.  Aino married Antero on October 28, 1951, in Copper Cliff (near Sudbury) Ontario. This is where she immigrated to a few years earlier for adventure.  She had numerous jobs growing up including working at a coal and veneer factory and housekeeping in Finland. She helped her husband run and  manage a jewelry store in South Porcupine and then worked in a bakery and Canadian Tire in Sault St. Marie. They had a Brittany Spaniel, and numerous pets adopted from their girls. She was hard working, meticulous, feisty, independent, loving and kind to her family, having a sharp mind especially in mathematics.  Aino loved swimming as a child and as an adult at their retirement cottage at Island Lake where she enjoyed the rural life.  She enjoyed travelling and always loved to spend time with her family cross country skiing, walking and dancing.  She was a member of 4-H growing up where she won awards for vegetables, animals and was a member of Sault Finnish Club as an adult. Aino's hard work and commitment led by example to her two daughters who blessed her with fourteen grandchildren and they have all followed her path. The  family would like to thank the Palliative Care Unit for their kindness in the last few days of her life. Left to cherish Aino's memory are her daughters, Irene (George) McWilliams and their families, Tom (Pamela) McWilliams and their children, Pierce, Sofia and Petra;  Samantha and Zubair Ladek;  Benjamin (Tara)  McWilliams and their children, Caen, Lily and Olivia;  Michael McWilliams (Tina  Guettler) and their son, Parker;  Paul (Christina) McWilliams and their daughter  Avery; as well as Ursula McWilliams and Charlotte  McWilliams;  Brenda (Dan) Frank and their families, Richard Frank,  Lydia (Cody) Rodgers and their children, Lucas, Damon, and Oliver;  Tuomas (Kaylie) Wolkowski and their son Kellan; Nathaniel Frank, Hannah Frank, Joshua Frank and Malachi Frank; sisters, Anja Ahonpaa, Katri Hyvonen and Senni Tuovinen as well as numerous cousins, nieces, nephews and their children in Finland.  Aino was predeceased by her husband, Antero, on August 20, 2007;  brothers, Aaro and Aake  Hurskainen;  mother, Anna Lydia Hurskainen;  father, Juha Ferninand  Hurskainen and sisters, Kirsti Peippo and Pirkko Hiltunen.  A Graveside Service will be held at Hillside Cemetery on Friday, August 1, 2014, at 3:00 p.m.  Those wishing to attend the service are asked to meet inside the cemetery gates by 2:50 p.m. (Condolences may be expressed by visiting www.cooksouthland.com)  Honoured to serve the family is COOK SOUTHLAND Funeral Chapel, 901 – 13 Street S.W., Medicine Hat, Alberta, T1A 4V4.  Telephone:  403-527-6455.
DENNIS "DAN" HEATHER
[Dennis] "Dan" Heather passed away on Sunday, July 20, 2014, at age 76, beloved husband for 22 years of Jill of Black Diamon, AB, son of the late George and Olga Heather, brother of Gene [Starla], and Marcille [Gary], and father of Toni.
Dear God,
Dan Heather is on his last Trail Ride, on his way to see you—
I am not sure how things work up there but I would like to give you a little insight. He is very stubborn, and hard headed, if you need help call his mum, she will grab him by the scruff of his neck and very politely tell him to smarten up. He can also be calmed down by a kitten in his lap.
He is a wonderful leather worker and silversmith, all self taught. Please do a spell check for him. Give him a pocket knife and he can make anything, it might not be pretty but it will work. He was a great camera man just make sure it is not Panavision gear.
If you need advice on how to fix the world's problems, he will tell you what to do.
My suggestion is to put him on a mountain top, with fresh cold spring water, lots of bacon, eggs, butter and steaks, a crusty old coffee pot and invite his buddies. Oops, forgot the big bottle of whiskey.
If you need a break, just listen to the stories they will tell—
Love you Dan.