JAMES VICTOR (VIC) DUFORT
Posted: September 5th, 2014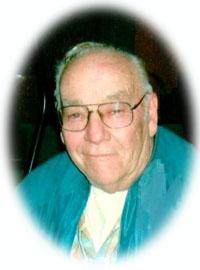 October 28th, 1931 – August 13th, 2014
Vic passed away peacefully of natural causes on the afternoon of August 13th, 2014, at approximately 4:00 PM in Edmonton, Alberta. Vic was comforted by his Wife and surrounded by Family at the time of his passing.
Vic was the oldest of three children born to Violet Marie and Pamphile "Phil" Dufort in Empress, Alberta on October 28th, 1931.
Vic was a gentle man with a great love of family and generously opened his home to all. Together with his wife Marjorie, they cared for parents, children, Nephews, Sisters, Grandchildren and even the occasional stray! Whether for days, weeks, or years, the door was always open and all were considered family. Coming from a small farm in Atlee, Alberta, he met his wife Marjorie in Medicine Hat, Alberta where they were married in 1953, during those early years he worked at the flour mill until he started as an operator on road construction. Vic and Marjorie followed the road construction work, living in many towns until they settled in Valleyview, Alberta in 1969. Valleyview was home and they lived and raised their family while Vic was working in construction and pipline. In 1987 Vic and his family moved to Red Deer, Alberta to start a new adventure in small business, where his wife Marjorie and his daughter Lynette opened their first restaurant, Clancy's. Vic continued to run dozer and scraper until he retired in 2002.
Spending most of his life as a "Cat-Skinner" (heavy equipment Operator) and Pipeliner, Vic travelled to virtually every corner of the Province of Alberta, making friends along the way. Vic was active in the many communities he lived in and belonged to many different groups and organizations, and was always willing to give someone a hand. He was a consummate tinkerer that revelled in the challenge of building things with his hands from wood or metal. Most of his friends and family have something that he made just for them, whether it is a hand carved kitchen spoon, a turned egg cup, or a handmade wooden carpenters plane. Each was one-of-a-kind, made with skill and love! Vic often said that he "was a jack of all trades, master of none", he was more than that. Vic knew a little about a lot of things but there were many things he did, and he did those to meet his personal view of perfection, and he was proud of his accomplishments.
He will be missed by his wife Marjorie of 61 years and their children: Lynette of Calgary, Darwin (Lynda) of Red Deer, and Troy (Brenda) of Whitecourt. His grandchildren: DJ (Lana) Ilg, Sheldon Smith, Courtney (Dave) Gordon, Tanya Gordon, Corrina Wasylenchuck, Connor and Jade Dufort, his four great grandchildren Jayven, Hadley, Kylie, and Olivia, as well as numerous nieces, nephews, extended family and friends.
He was predeceased by his sister Barbara, mother Violet Marie, father Pamphile "Phil" Dufort, nephews Daniel Bokstein and Bradley Flinkert, and his sister Evette Bokstein.
A celebration of Vics life will be held at 1:00 PM on September 27th, 2014 at Pelican Point on Buffalo Lake; 1710 Shultz Crescent, Bashaw, Alberta.